Holy confirmation in the community of Couples for Christ
Be strong and put trust in the Holy Spirit
Overweging Preek - gepubliceerd: zondag, 24 november 2019 - 788 woorden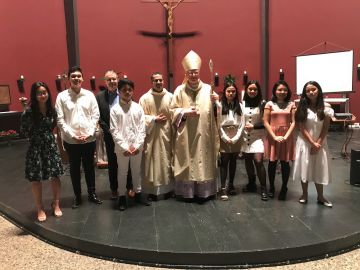 On the sollemnity of Christ the King, at the 24th of no­vem­ber, I visited the 'Couples for Christ' community and administerd holy confirmation to eight candidates, all around the age of fifteen, sixteen, except one.
It was a nice celebration in Saint Paulus­kerk in Am­ster­dam-West (Osdorp), nicely sung by the parish choir. Fr. Richard Lobo svd, who is a parish priest in Breda, has the pas­to­ral care for this mainly Philippine community.
Among the candidates was one Dutchman in his early fifties who recieved this sacra­ment. He is about to marry.
After the celebration many pictures were taken and delicious food was prepared by members of the community.
HOMILY
Dear brothers and sisters,
A joy!
What a beautiful Celebration this is of the gift of the Holy Spirit, who through the sacra­ment of confirmation is given to you, dear candidates. A joy it is! Let us admire God's gifts and the work of the Holy Spirit. This is an occasion to think of the won­ders He has worked in your life, in the lives of everyone of us .
The work of the holy Spirit
What won­ders does the Holy Spirit work? Think of the gifts summed up by holy Scripture and the invocation of the holy Spirit in this celebration: wisdom, love, faith, right judg­ment ( that you know what to do, what to choose), understan­ding, counsel, fortitude, knowledge, reverence and courage and so many more.
This gift of the holy Spirit today is given to you, dear candidates, for your whole life. But you will need to activate the gift you have received, by praying - "Come, o Holy Spirit, guide me, teach me" - an by ope­ning yourself to the will of God.
Temptations
There are many temptations. In­ter­net is a beautiful resource but you find there as well many evil things, like violence, hatred and pornography. Sometimes it is difficult to resist, but you have to, a christan, a catholic has to fight against evil. If you accept doing evil, you reject the Holy Spirit and the evil spirit takes possession of your heart. If you do evil and repent sincerely however, you will always find the merciful love of God!
He sees your heart
The Lord watches your heart, He knows what is in there, He does not consi­der your appearance, your words and not even your deeds in the first place. He consi­ders your intentions, your love, your faith, your desires... He strengthens all of us with the gift of his Holy Spirit.
She was strong...
I know a girl, she was not even twenty and she made a mistake: she had sexual intercourse with a young man and discovered shortly after that she was pregnant. The man left her right away. She was left alone. That was a difficult period for her: she was alone, with a child. She repented that she had gone too far in dating this young man. For that she asked God's forgiveness and went to confession. But now her faith and strong character became clear. She did not take an abortion, though it was cros­sing her mind that she could resolve her problem in such an easy way. She res­pec­ted and loved her unborn baby. Of course, this had many consequences for her. She prayed the Holy Spirit, over and over again. Her parents were hel­ping won­derfully. After a year or so - the child was still a baby - she met a won­derful catholic young man full understan­ding and loving care for her child. Now they are married and still - I am sure - she gives thanks to the Holy Spirit for His Divine help and the strength she recieved, together with God's love and discern­ment that brought her to right judg­ment.
Have trust in the gifts of the holy Spirit
Why do I tell you this story? Of course, you will encounter difficult situations in your life, like the girl in this story. Hardships belong to life. Don't get desperate, don't just look for 'escapes', don't lose hope and faith! Trust in the Lord and in his Holy Spirit! Trust in the gift you receive in this sacra­ment of confirmation and activate it time and again by praying and ope­ning yourself up to Him so that the Holy Spirit can do his work in you.
Chrism
I will put my hand on your head as a sign that God protects you, I will anoint your forehead with Holy Chrism. This oil is a sign of the presence of the Holy Spirit, whose gifts - though invisible almost like the oil which is transparent - may come into your hearts!